visit our happy head massage carlsbad location
To select "Couples Massage" or "4-Hand Massage" please select "2" as the quantity while booking.

<< Back to all Locations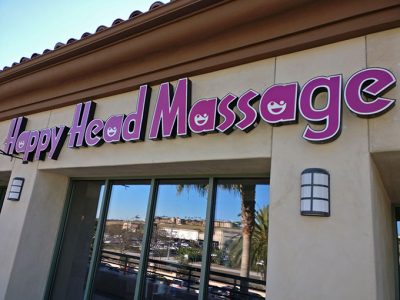 OPEN DAILY 10 A.M. TO 9 P.M.
ADDRESS
Happy Head Foot Reflexology
and Massage – Carlsbad
5617 Paseo Del Norte #214
Carlsbad, CA 92008
PHONE
(760) 979-8655
Internationally known as the "Village by the Sea", the Southern California city of Carlsbad has the luxurious appeal of a European town while still offering all of the amenities and opportunities as a large city. This is part of the reason why Happy Head Massage in Carlsbad is so appealing to residents and visitors alike!
Directly across from the Carlsbad Premium Outlets, Happy Head Massage Carlsbad at Paseo Del Norte offers a tranquil escape in a zen-like atmosphere. This location offers plenty of free parking, shopping, dining, and, of course, Happy Head's premier massage experience. After a busy day visiting the nearby outlets, window shopping (or real shopping!) at the many picturesque small businesses, or enjoying numerous cafes and restaurants, nothing beats the relief that only our Happy Head Carlsbad massage can provide! If you're beat from all the day's adventure, you can also utilize Happy Head's in-home massage feature to enjoy a quality salon from your house.
Boasting incredible year-round weather and an unbeatable climate mean that Carlsbad is a constant attraction for adventure seekers. Surfing, boating, and hiking are just a few of the options easily and readily available for those looking for a little action. Once those activities are over, treat yourself to a little post-action relaxation and recovery with the finest massage in Carlsbad by heading to Happy Head Massage and trying out their various massage services.
One of the reasons why so many people visit Carlsbad is the many amazing attractions and events. Almost 2 million visitors annually visit the town to spend time at the incredible Legoland amusement park to enjoy all things Lego! Encompassing almost 128 acres and having more than 60 rides, this park has so much to do that will easily tire out even the most seasoned amusement park aficionado. Luckily, Happy Head is ready and willing to repair, rejuvenate, and relieve any and all wary park-goers with the best massage in Carlsbad. Our Carlsbad massages are so incredible that we can get you ready and willing for another day of fun!
As you spend your time in the beautiful city of Carlsbad, make sure to not miss out on the greatest attraction of all: the best massage you've ever received, courtesy of Happy Head Massage Carlsbad. Make sure to stop by today and make sure to check out our other Happy Head Massage locations in Chula Vista, Downtown, Chula Vista at Terra Nova Plaza, Pacific Beach, Sports Arena/Point Loma, and Rancho San Diego for a great message anywhere in San Diego county!