visit our chula vista location
To select "Couples Massage" or "4-Hand Massage" please select "2" as the quantity while booking.

<< Back to all Locations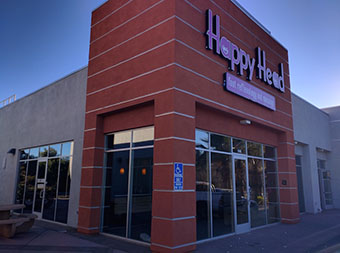 OPEN DAILY 10 A.M. TO 9 P.M.
ADDRESS
Happy Head Foot Reflexology and
Massage – Chula Vista
3047 Bonita Road, Ste 106
Chula Vista, CA 91910
PHONE
(619) 483-9334
One of San Diego county's hidden jewels, the city of Chula Vista lies just south of the city of San Diego. With beautiful coastlines and vast expanses of rolling hills and mountains, many San Diego residents retreat to Chula Vista for rest and relaxation. Another reason they make the short trip south is to visit Chula Vista is to experience the city's greatest attraction: Happy Head Massage Chula Vista!
Happy Head Massage Chula Vista is located within the Bonita Gateway Retail Center which is minutes from both the Eastlake and Plaza Bonita Mall. Boasting revised and updated décor with a relaxing style reminiscent of a top-notch spa, Happy Head Massage Chula Vista can compete with the big spas without charging its customers with anxiety-inducing prices!
Prior to visiting Happy Head Massage Chula Vista, there is plenty to see and do to make your massage even more rewarding. First and foremost, Chula Vista is located near the Mexican border making a quick trip over the border an exciting and culturally-rewarding experience. Once you're finished trekking around Mexico, make sure you stop by Happy Head Massage Chula Vista for a relaxing Swedish massage that treats the entire body to stress and ache-relieving bliss.
Being so close to the border, Chula Vista's culture is naturally influenced by its southern neighbor; it even takes its name from Spanish which is translated to "beautiful view". Indeed, this is no misnomer because Chula Vista has numerous outdoor attractions like the Sweetwater Marsh National Wildlife Refuge, Living Coast Discovery Center, Chula Vista Marina & Yacht Club, and the Cycle the Bayshore Bikeway. As you might imagine, all of these activities will definitely tire and wear you out so make sure you schedule a body and foot massage at Happy Head Massage Chula Vista to work out all your sore muscles.
Chula Vista has so much to offer and one of the best ways to start your adventure, or end one, is with a great massage. Make sure that you don't miss out and schedule an appointment today with Happy Head Foot Reflexology and Massage – Chula Vista to reserve your spot and one of the greatest massages in town! Don't forget that you can also experience Happy Head massage services without leaving the house with our in-home massage service.
If the Happy Head Massage Chula Vista location is a little out of the way for you, don't panic! Happy Head Massages has various other locations in Downtown, Carlsbad, Point Loma, Pacific Beach, Rancho San Diego, and our newest location and neighbor, Chula Vista at Terra Nova Plaza. We can't wait to see you and show you why we're San Diego's premier location for massages!