visit our pacific beach location
To select "Couples Massage" or "4-Hand Massage" please select "2" as the quantity while booking.

<< Back to all Locations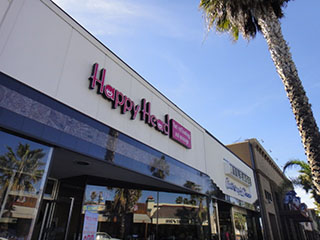 OPEN DAILY 10 A.M. TO 9 P.M.
ADDRESS
Happy Head Foot Reflexology and
Massage – Pacific Beach
953 Garnet Avenue
San Diego, CA 92109
PHONE
(619) 333-0074
San Diego is an idyllic and exciting tourist destination for visitors searching for the sun from all across the nation and the world. One of the biggest draws to the city is its incredible beaches that can be enjoyed year-round thanks to San Diego's perfect climate. Nothing exemplifies the San Diego experience is the beach town of Pacific Beach, also known as "PB" by the locals. And just like all the best San Diego neighborhoods, Happy Head Massage is in the mix offering the best PB massages at the best prices! If you live near Pacific Beach and want to experience the same massage near the ocean without losing your parking spot, Happy Head Massage offer in-home massage services that will bring a quality massage to you.
Widely known across the city as being the "life of the party", Pacific Beach is home to numerous bars and restaurants that are sure to show you a great time! With close access to the beach and plenty of rooftop bars and lounges, a night in PB will always have you making new friends, creating unforgettable memories, and dancing away your stresses. Once the morning comes, you can indulge in another time-honored tradition of grabbing a terrific massage in Pacific Beach to soothe those sore feet and aching head. Happy Head Massage Pacific Beach is central to all of PB and offers incredible massage services, like the Deep Tissue Massage or our life-changing 4-Hand Massage.
If you're visiting Pacific Beach with the family, don't be discouraged by its party vibe! Just down Mission boulevard is San Diego-famous Belmont Park that promises amusement park fun with a beautiful view of the ocean. Filled with games, a roller coaster, zip line, and more amusements, Belmont Park is a staple for young families looking to have a great time. And after you've had your fun at the park with the kids, it's time for a soothing PB massage for the adults that you can only find at Happy Head Massage Pacific Beach! Our Asian Style Body and Foot massage will alleviate all the wear-and-tear from a day at the amusement park while our Couples massage will be a relaxing experience for you and your partner!
Although we are incredibly proud of Happy Head Massage Pacific Beach, we understand if that location might not be right for you. If you're looking for one of our other Happy Head Massage locations, allow us to help you out. We have locations in Carlsbad, Chula Vista, Downtown, Chula Vista at Terra Nova Plaza, Point Loma, and Rancho San Diego. No matter where you are, there's a Happy Head Massage nearby and ready to provide a great massage at a great value!