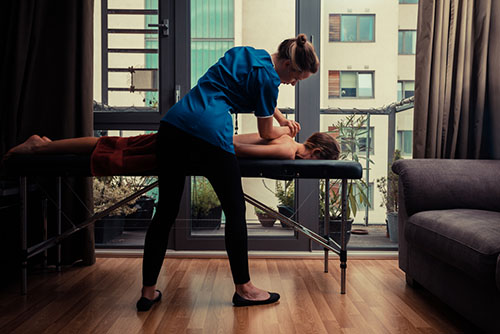 Massage Out-Calls to Your Home | In-Home Massage Service
What could be more relaxing and comforting than a massage that melts away all your stresses, aches, pains, and worries? The answer is an in-home massage that brings all the elements, atmosphere, and benefits of a massage to the comforts of your own home. Happy Head Massage has been practicing the ancient art of therapeutic massage in San Diego for years and wants to take their renowned service on the road, directly to you!
You may not know, but there are numerous benefits of an in-home massage in San Diego. One of the biggest benefits you can expect from an in-home massage is simply the convenience. No longer do you have to work a relaxing massage into your busy schedule. You can simply order some of your favorite Happy Head Massage services directly to you your home at your convenience.
Another major benefit of a Happy Head in-home massage is that you can reach maximum comfort since you'll be residing in your own home. Happy Head strives to promote a peaceful and tranquil atmosphere at all of its San Diego locations; however, we do know that some people feel most comfortable in their home. We would love to heal your aches and pains when you are most comfortable, which would make an in-home massage perfect for our homebody customers.
Let's give you some more information about how Happy Head Massage in the comfort of your own home. The massage therapist arrives with a massage table, sheets, lotions, oils, and music to bring the renowned Happy Head experience to you. Book a massage in seconds and our Happy Head therapist will come to your San Diego home, hotel, or office. Relax and recuperate with a spa-quality massage in the comfort of your San Diego home. We offer classic Happy Head massages in-home including our Swedish, Deep Tissue, Asian Fusion, Couple's, and 4 Hand massage.