visit our hillcrest location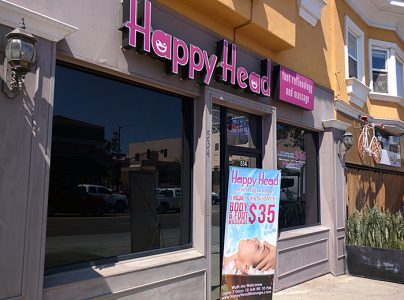 OPEN DAILY 10 A.M. TO 9 P.M.
ADDRESS
Happy Head Foot Reflexology and
Massage – Hillcrest
534 University Avenue
San Diego, CA 92103
PHONE
(619) 333-8422
Are you located in or near Hillcrest and are in need of some much-deserved relaxation, pampering, and self-care and aren't looking to pay an arm and a leg for it? If this sounds just like you, you need to stop what you're doing immediately and head to Happy Head Foot Reflexology and Massage Hillcrest!
Locally known as the best massage at the best price, Happy Head Massage Hillcrest is not just the premier massage destination for all residents of Hillcrest. This location is one of our most centrally located San Diego massage parlors and is accessible by a number of other populous SD "Neighborhoods". Indeed, Happy Head Massage Hillcrest caters to a number of local residents including Northpark, Bankers Hill, South Park, City Heights, Hotel Circle and Mission Valley! If you're not near these locations, don't fret – Happy Head Massage offers in-home massage services that bring the quality and relaxing massage to you!
Yes, being located in one of the hippest, bohemian, and artistic communities, Happy Head Massage Hillcrest is renowned in Hillcrest for providing one of the best massages in town. After spending time strolling around Hillcrest, checking out the various boutiques, sampling the local flavors, and enjoying some of the best entertainment in San Diego, most locals finish or start their day at Happy Head Massage Hillcrest to gain some soothing pleasure from our various massage services.
Another popular destination for Hillcrest locals is just down the hill at Northpark! If you're in need of some hipster culture, innovative dining experiences, or some of the best locally brewed beer, this is the place for you. And after you've sampled all the best that Northpark has to offer, make the quick trip back up the hill and head to Happy Head Massage Hillcrest to relieve those aching feet with our proprietary foot massage that will alleviate all your aches.
Lastly, any true San Diegan and Hillcrest resident will let you know that the best way to spend a lazy day is at beautiful Balboa Park. Indeed, Hillcrest is directly adjacent to Balboa Park and offers easy access to acres of beautiful parkland where fun and relaxation abound. If you're looking for some culture, you can head to one of the many Balboa Park museums to take in some knowledge and art along with the beautiful Spanish architecture. And once you've finished your day at the park, Happy Head Massage Hillcrest is ready to add even more joy to your day with a great fusion massage.
Now that you know all about Happy Head Massage Hillcrest and its surrounding area, we welcome you to come experience the best massage in Hillcrest. Want to find out about our other locations? We can help with that! We are also in Carlsbad, Chula Vista, Downtown, Mira Mesa, Chula Vista at Terra Nova Plaza, Pacific Beach, Point Loma, and Rancho San Diego. Can't wait to see you soon!