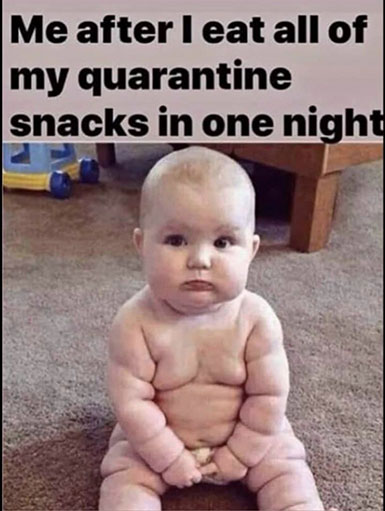 This stay at home order has had the unintended consequence of causing mental issues for many people. Dealing with the kids, having nowhere to escape, and having no excuse to see your mistress or side boyfriend, has caused some of us to get a little wonky. At the Happy Head, we love seeing your smiling faces…well now it's half a face, but we still want to see those happy crinkles around your eyes.
Here's a list of ways to make yourself happy and keep yourself sane during these crazy times:
Exercise: Yes I know the gyms are closed, but you can take this as an opportunity to start a new workout routine. Maybe a morning jog, a nice bike ride, or follow some yoga on Youtube, there are still plenty of ways that you can work out to lose those pesky pounds that we all put on the last few months.
Outdoor Dining: San Diego has some of the best weather in the world. Gaslpamp downtown has taken their dining outdoors and I gotta say, I ain't hating it. It's actually a nice change of pace and I find it even nicer and more rewarding than eating indoors. Make a date of it.
Chiropractic: Most chiropractors have remained open during this lockdown as they're considered essential providers. Did you know that the Happy Head provides great chiropractic care without the doctor price? Book now to get an awesome chiropractic adjustment for only $49 by clicking HERE.
Massage: Massage is still available as long as it's under the supervision of a licensed medical provider such as a medical or chiropractic doctor. We have chiropractors on staff providing chiropractic services and overseeing the massage at Happy Head. If you don't feel you should be getting a massage during these times, well, then don't get a massage. But if you have any pain in your back, muscle spasms, cramps, stress, or any other complaints that massage may help, book your massage by clicking here. You can get a massage at the Sports Arena and Chula Vista @ Terra Nova locations today.
Please try not to stress out during these tough times. Do what you can to keep yourself sane, healthy, and safe.
Wishing you health, happiness, and love,
The Happy Head