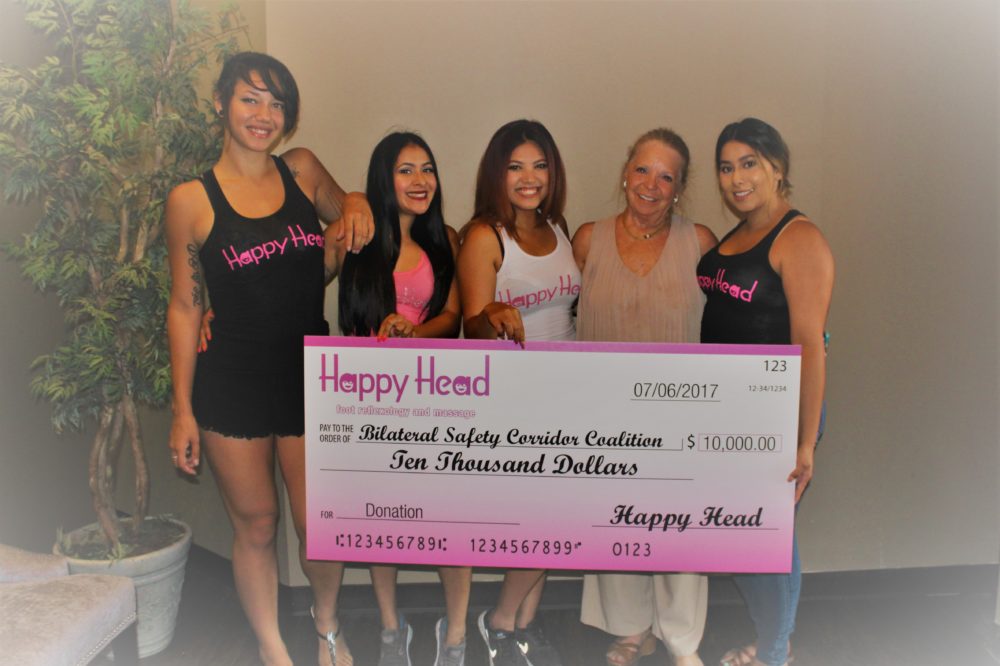 In their effort to help end human trafficking in San Diego, Happy Head Foot Reflexology and Massage has donated $10,000 to the Bilateral Safety Corridor Coalition (BSCC) to help them in their fight to end human trafficking and slavery. The BSCC is an alliance of over 60 government and nonprofit agencies in the United States and Latin America. The Happy Head is working with the San Diego based organization to combat slavery and human trafficking.
While many people find the Happy Head name funny or even too much for some, the Happy Head is using their name to bring awareness to the silent victims of human trafficking. When the first Happy Head opened in 2011, the name was chosen for its humor and catchiness. Now the name has grown from something that was once considered funny, to a name that is synonymous with not just a great massage in San Diego, but a name that can change an industry.
During the past two months, Happy Head Massage launched a campaign to help raise money to support the Bilateral Safety Corridor Coalition (BSCC) in their fight to end human trafficking. On July 6, 2017, some of the Happy Head girls presented Marissa Ugarte of the BCSS a check in the amount of $10,000. This donation will help Marissa and her organization to help these silent victims. Trafficking in persons is a serious crime and a grave violation of human rights. Every year, thousands of men, women and children fall into the hands of traffickers. These victims feel trapped and often feel like they have no way out.
Since helping the BSCC, the Happy Head is looking to help more organizations in their effort to help others. To have an organization to be considered by the Happy Head for their support, anyone can go to www.happyheadmassage.com/proud-supporter/ and submit their request. It's nice knowing that a purchase at Happy Head Massage can help worthy causes such as fighting human trafficking, local schools and charities, kid's sports teams, and many more. What once was a funny name that helped bring attention to a massage center in San Diego, has become a name that may have the potential to save countless lives.